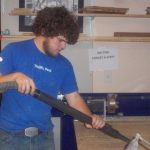 Not to brag, but….   Our Hickory Arms Practice Sword Designer, Luke Schriefer is Pretty AWESOME! 
He brings cutting edge technology to his Technology Education classes in Silver Lake Regional High School Kingston, MA. And Luke has been nominated for best new teacher in MA and best teacher in MA for good reason!
Luke personally raises funds for equipment for his students using Donors Choose.org.  See Below for his many projects!
But the thing Luke is most passionate about is his work in Peru.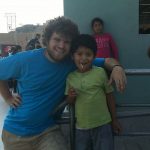 For the past several years Luke has helped to build an orphanage and technology school and curriculum for children living off garbage piles in the area.
Luke is a combination of passion, kindness, and incredible amounts of drive and determination.  Thanks for getting to know our Hickory Arms' designer better!!
Some of Luke's latest sparring sword designs (executed by Trent) include:
­­­­­­­­Roman Spatha – calvary sword
Joan of Arc St. Catherine's sword
Wonder Woman's version of Greek Xiphos
Black Knight Fantasy Sword
Zatoichi sword and Sheath
Zelda master sword
Some of the many projects Luke funded for his classroom include: 
Maker Space equipment:
Hot Wire Cutters for his Advanced Tech Theater class used to sculpt projects, create molds and design scenery
Brad Nailer and Compressor Kit, Cordless Drill, and Belt Sander for his student's Prop Shop
Sewing Machine for individual design and creation of theater costumes
STEM Lab Equipment:
Kreg Pocket Hole System, a great drill, used for wood projects.
MakerBot 3D Printer, which designs amazing pieces of art, architecture, mechanics, and engineering.
Drill Press for Robot Fabrication
Router and Router table, Miter Saw, Scroll Saw, and Band Saw