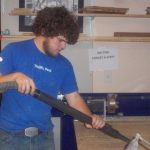 Not to brag, but….   Our Hickory Arms Practice Sword Designer, Luke Schriefer is Pretty AWESOME! 
He brings cutting edge technology to his Technology Education classes in Silver Lake Regional High School Kingston, MA. And Luke has been nominated for best new teacher in MA and best teacher in MA for good reason!
Luke personally raises funds for equipment for his students using Donors Choose.org.  See Below for his many projects!
But the thing Luke is most passionate about is his work in Peru.